Next General Meeting: Wednesday, October 31
October 28, 2018 in Announcements, General Meetings by Krista Fechner (Admin)
BASK Halloween Monster Bash!
Featured Presentations:
Topic: Kayaking with Wolves
Presenter: Tom Colton
Presentation Summary: Wolves are everywhere on the remote northwest coast of Vancouver Island, but humans rarely see them. In over nine weeks of kayaking this area since 2012, Ellen and I have sighted wolves just six times. I'll share photos, video, and audio clips of these encounters, along with tips for what to expect and how to deal with problem wolves.
Topic: San Juans Campouts
Presenter: Margot Otway and Jim Ham
Presentation Summary: Every other July, many BASKers participate in the Casey Walker San Juans Campout. If you've been wondering what happens there, Margot and Jim will share slides from recent years.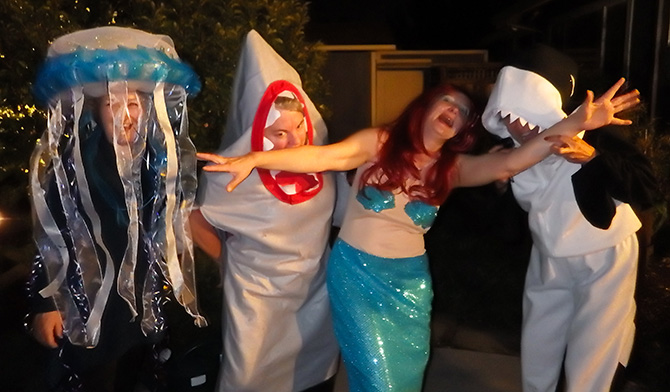 Transportation & Parking: You can take BART to the 16th & Mission station; it's a short three-block walk to the Women's Building. If you must drive all the way, we have a special arrangement that allows us to park in the Mission High School lot on the west side of Delores Street between 17th and 18th Streets. The parking driveway is closer to 17th Street and takes you up a ramp to an elevated parking slab behind a chain link fence, as shown in this Google Street View. From there, it's a two-block walk. Put something that says "BASK" on your your dashboard. The lot will be locked at 10 pm, so make sure you're out well before then. Other parking in the Mission is limited. If you need to drive, carpooling and parking west of Mission St. are recommended. There are two parking garages in the area. For trip planning information, see the Women's Building contact page.