Bay Area Sea Kayakers (BASK) is a group of several hundred sea kayakers who live throughout the San Francisco Bay Area. Our interests include flat-water paddling, kayak-surfing, expeditions, and playing amongst the rocks, in conditions that range from mild to wild. Our club exists to bring paddlers together for companionship, safety, exploration, learning, and great food and drink! We welcome as members all individuals interested in kayaking. We're committed to building a diverse and inclusive paddling club and to sharing our enthusiasm, skills, and knowledge to increase equity and access to our sport.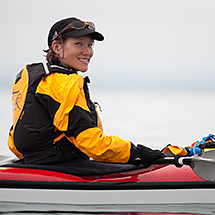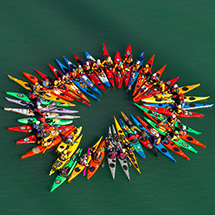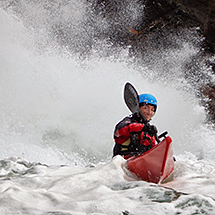 BASK trips range from local to international, and are all member-initiated with shared responsibilities for safety. BASK does not supply boats or equipment, although some members are willing to share their equipment. You have to be a member or a guest of a member to participate in on-the-water BASK events and a signed activity waiver is required. Follow the links to learn more about the benefits of membership and to join BASK.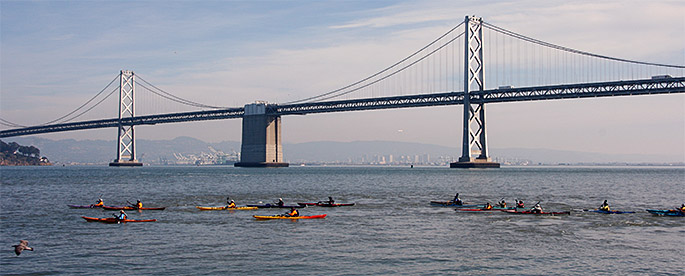 We invite you to attend one of our monthly meetings, currently online due to the pandemic! They are free and open to the public. The format of each meeting may vary a bit month to month, but they tend to include members sharing stories, featured speakers, club news, and information about upcoming events. It's a great way to meet club members and learn about paddling opportunities. For more information see the Events page!
Would you like to speak at a BASK meeting or have an idea for a speaker? Contact the Speaker Seeker. Interested in what type of speakers we've had in the past? See the list of previous general meeting topics.
Time: 7 to 9 pm
Link to connect through Zoom: See BASK Calendar or BASK Facebook Group on June 30





We have a great program for the General Meeting!
Tentative Agenda:

Planning Meeting Highlights
Upcoming Paddles and Events
Welcome New Members
Introducing the Skills Clinic 2021 students with Jan Dolzer
Library Thing Video Demo with Darryl Thomas
Muscle of the Month with Mary Ann Furda
Navigation puzzle and breakout rooms with Tom Colton
A presentation on the "Secret Lives of Bay Area Seabirds." The Bay Area is home to hundreds of thousands of seabirds that have helped shape its history. Join Wendy Kordesch, Paul Hobi, and Karen Reyna of the Greater Farallones National Marine Sanctuary's Seabird Protection Network to learn about the severe places the birds call home, the challenges they've overcome, and successful efforts to protect their unique habitat. https://seabirdprotectionnetwork.org/




Paul Hobi manages the Seabird Protection Network's efforts to reduce disturbances to sensitive seabird colonies using targeted outreach and education. Prior to working with the Greater Farallones Association, he led grassroots outreach for the MPA Collaborative Network and Ocean Conservancy. He graduated from Northwestern University with a BA in History, studied in Chile as a Fulbright Scholar, and speaks fluent Spanish.





Wendy Kordesch, PhD, is the Geological Oceanographer for the Sanctuary and the Outreach Specialist for the Seabird Protection Network. She splits her time between managing coastal geology projects for the Ocean Climate Program and implementing the outreach and education goals of the Seabird Protection Network. Wendy holds a PhD in Paleoclimate from the National Oceanography Centre in the UK and an MS and BS in Earth and Ocean Science from UC Santa Cruz, and has taught at Santa Clara University. She is a Bay Area native frequently spotted swimming in the Bay's nearshore waters.





Karen Reyna is the Greater Farallones National Marine Sanctuary's Resource Protection Coordinator. She is a native of the Bay Area and an avid sailor.