Bay Area Sea Kayakers (BASK) is a group of several hundred sea kayakers who live throughout the San Francisco Bay Area. Our interests include flat-water paddling, kayak-surfing, expeditions, and playing amongst the rocks, in conditions that range from mild to wild. Our club exists to bring paddlers together for companionship, safety, exploration, learning, and great food and drink! We welcome as members all individuals interested in kayaking. We're committed to building a diverse and inclusive paddling club and to sharing our enthusiasm, skills, and knowledge to increase equity and access to our sport.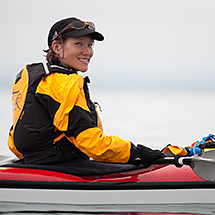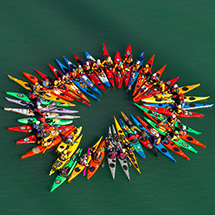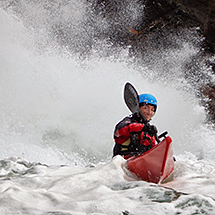 BASK trips range from local to international, and are all member-initiated with shared responsibilities for safety. BASK does not supply boats or equipment, although some members are willing to share their equipment. You have to be a member or a guest of a member to participate in on-the-water BASK events and a signed activity waiver is required. Follow the links to learn more about the benefits of membership and to join BASK.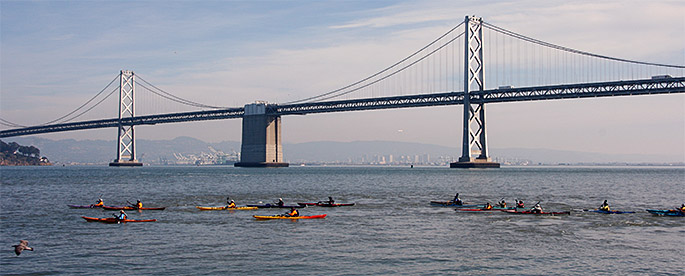 We invite you to attend one of our monthly meetings, currently online due to the pandemic! They are free and open to the public. The format of each meeting may vary a bit month to month, but they tend to include members sharing stories, featured speakers, club news, and information about upcoming events. It's a great way to meet club members and learn about paddling opportunities. For more information see the Events page!
Would you like to speak at a BASK meeting or have an idea for a speaker? Contact the Speaker Seeker. Interested in what type of speakers we've had in the past? See the list of previous general meeting topics.
BASK Health Guidelines
For the safety of participants at all BASK paddles and other in-person activities, please stay home and join us another time if:
You're experiencing symptoms of any infectious respiratory illness
You're testing positive for COVID-19, even if you're feeling well
In the past week, you've been exposed to someone with COVID-19 via shared air
If you develop COVID-19 symptoms or test positive for COVID-19 within a week of attending an in-person BASK activity, please let the event initiator know. This will allow the initiator to inform other participants, who can then choose to self-test or take other precautions such as obtaining pharmaceutical COVID-19 treatments if they develop symptoms.
Time: 7 pm (Virtual)

About: All members are welcome to attend the virtual General Meeting, hosted on Zoom. Keep up on BASK plans and activities. Listen to notable speakers. Join in on fun and educational kayaking-related activities.

Location: Zoom Meeting (invitation will be posted on the BASK calendar). Note: The speaker portion of this meeting will be recorded.

Agenda Highlights:

Featured Presentation: "An Evening Discussion with Maligiaq Padilla"
Muscle of the Month with Mary Ann Furda
Upcoming Paddles and Events
Welcome New Members
Planning Meeting Highlights
Launch of BASK's New Forum called Currents
Gearhead with Nathan Moody

Got ideas for meetings or locations? Contact Tom Colton, BASK President, tcolton@berkeley.edu

Presentation Description: Despite his young age, Maligiaq Padilla is a legend in sea kayaking. Born to an American father and a Greenland Inuit mother, Juliane Padilla (née Johnsen), he was raised from age four in Sisimiut, Greenland. Padilla's grandfather, Peter Johnsen, a skilled kayaker in his own right, taught Padilla how to kayak, how to build the boats, and how to hunt using a harpoon and rifle. Included in his training were open-ocean skills and traditional kayak-building skills.
Kayaks built by Padilla are housed at the Greenland Sisimiut Museum, the Inuit Gallery of Vancouver, the Smithsonian Museum in Washington D.C., and the Kativik Cultural Center in Nome. In 2010 Padilla moved to Alaska, where he is working to revive traditional kayaking culture. He and his wife, Elizabeth Saagulik Hensley, an Iñupiaq attorney, have two children. Padilla is the only person in history to win four Greenland National Kayaking Championships, winning his first title at 16.
Maligiaq's presentation will begin the meeting, as his current time zone is five hours ahead of ours.





How to Attend:
**** ZOOM INFO WILL BE POSTED on the BASK calendar****
Zoom info will NOT be on Buzz.
Zoom info will NOT be on the BASK website except in the calendar.

Please do not share Zoom information on social media.
You must confirm that you have access to the BASK calendar prior to the meeting. Please do not wait until the last minute to do this. We may not have the resources to assist you at the last minute.

Please make your Zoom "Display Name" your real name, as it is listed in the BASK directory. Here is information on how to do that:
https://support.zoom.us/hc/en-us/articles/201363203-Customizing-your-profile
If your Zoom display name is, "I am a ZoomBoomber" and we can not easily verify that you are a legitimate BASK member, we may kick you out of the meeting.