Bay Area Sea Kayakers (BASK) is a non-profit 501(c7) sports club of several hundred sea kayakers who live throughout the San Francisco Bay Area. Our interests include flat-water paddling, kayak-surfing, expeditions, and playing amongst the rocks, in conditions that range from mild to wild. Our club exists to bring paddlers together for companionship, safety, education, exploration, learning, and great food and drink! We're committed to safety both on and off the water, and our club holds insurance through Paddlesports Risk Management. We offer an inexpensive annual Skills Clinic to members, as well as numerous free clinics on skills, rescue, and safety throughout the year. We welcome as members all individuals interested in kayaking. We're committed to building a diverse and inclusive paddling club and to sharing our enthusiasm, skills, and knowledge to increase equity and access to our sport.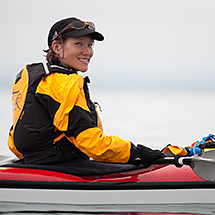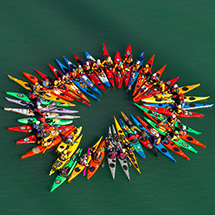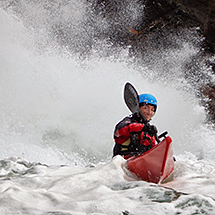 BASK trips range from local to international, and are all member-initiated with shared responsibilities for safety. BASK does not supply boats or equipment, although some members are willing to share their equipment. You have to be a member or a guest of a member to participate in on-the-water BASK events and a signed activity waiver is required. Follow the links to learn more about the benefits of membership and to join BASK.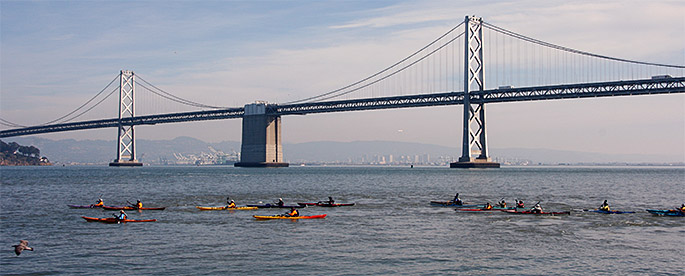 We invite you to attend one of our monthly meetings, either online or in person. They are free and open to the public; in-person meetings include food (suggested donation $8-10). The format of each meeting may vary a bit month to month, but they tend to include members sharing stories, featured speakers, club news, and information about upcoming events. It's a great way to meet club members and learn about paddling opportunities. For more information see the Events page!
Would you like to speak at a BASK meeting or have an idea for a speaker? Contact the Speaker Seekers. Interested in what type of speakers we've had in the past? See a representative list of previous general meeting topics.
BASK Health Guidelines
For the safety of participants at all BASK paddles and other in-person activities, please stay home and join us another time if:
You're experiencing symptoms of any communicable respiratory illness
You're testing positive for COVID-19, even if you're feeling well
In the past week, you've been exposed to someone with COVID-19 via shared air
If you develop COVID-19 symptoms or test positive for COVID-19 within a week of attending an in-person BASK activity, please let the event initiator know. This will allow the initiator to inform other participants, who can then choose to self-test or take other precautions such as obtaining pharmaceutical COVID-19 treatments if they develop symptoms.
BASK General Meeting on Zoom, Saturday, October 28, 9-11 am

About: Although the meeting was to be in-person at the Bay Model museum, there was a last-minute unavailability of this venue, requiring us to move to a Virtual meeting by Zoom. I was unable to find a replacement venue on such short notice. The meeting will otherwise be at the same date and time to avoid further confusion. (We'll replace a future remote meeting with an in-person meeting.) Fortunately, our guest speaker was very gracious about presenting by Zoom rather than in person. All members and prospective members are welcome to attend this General Meeting, hosted on Zoom.

Location: Zoom Meeting (invitation will be posted on the BASK calendar). Note: The entire meeting will be recorded.

Join us to catch up on the latest club news, and hear from Bill Keener of The Marine Mammal Center of Sausalito.

Agenda Highlights:

Welcome New Members
Featured Speaker: Bill Keener, Research Biologist of the Marine Mammal Center will speak about "Tales of Urban Whales." (Note that Bill Keener's presentation will begin near the beginning of the meeting, around 9:15 am, to allow him to keep his previous commitments later in the day.)
Intermission
Muscle of the Month with Mary Ann Furda
Upcoming Events
BASK Scholarship Program Update
Announcements

For our featured presentation, Bill Keener will present "Tales of Urban Whales", on the latest studies of the cetaceans (whales, dolphins, and porpoises) of San Francisco Bay and the coast of Northern California. Bill will describe the health of this busy marine ecosystem, and how we are learning to live with the harbor porpoises, bottlenose dolphins, humpback whales, and gray whales that kayakers can encounter in the Bay.

Bill Keener is a scientist with The Marine Mammal Center in Sausalito, California where he studies the local whales, dolphins, and porpoises. He documented the return of harbor porpoises to San Francisco Bay after an absence of 65 years, and studied their unusual social lives. He also created the first northern California bottlenose dolphin photo-ID catalog. His latest research is focused on gray and humpback whales, and the conservation implications of the increasing numbers of whales in the Bay.







Photos from top left: Bill Keener, bottlenose dolphins near Red Rock, humpback whale in the Bay

How to Attend:
**** ZOOM INFO WILL BE POSTED on the BASK calendar****
Zoom info will NOT be on Buzz.
Zoom info will NOT be on the BASK website except in the calendar.

Please do not share Zoom information on social media.
You must confirm that you have access to the BASK calendar prior to the meeting. Please do not wait until the last minute to do this. We may not have the resources to assist you at the last minute.

Please make your Zoom "Display Name" your real name, as it is listed in the BASK directory. Here is information on how to do that:
https://support.zoom.us/hc/en-us/articles/201363203-Customizing-your-profile

Got ideas for meetings or locations? Contact Cris Lewis, BASK President (lewis.cristina@gmail.com)