Bay Area Sea Kayakers (BASK) is a group of several hundred sea kayakers who live throughout the San Francisco Bay Area. Our interests include flat-water paddling, kayak-surfing, expeditions, and playing amongst the rocks, in conditions that range from mild to wild. Our club exists to bring paddlers together for companionship, safety, exploration, learning, and great food and drink! We welcome as members all individuals interested in kayaking. We're committed to building a diverse and inclusive paddling club and to sharing our enthusiasm, skills, and knowledge to increase equity and access to our sport.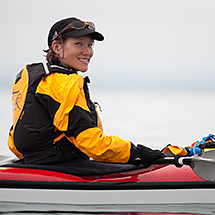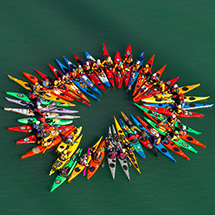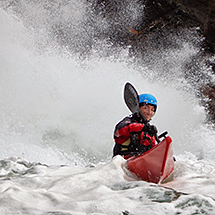 BASK trips range from local to international, and are all member-initiated with shared responsibilities for safety. BASK does not supply boats or equipment, although some members are willing to share their equipment. You have to be a member or a guest of a member to participate in on-the-water BASK events and a signed activity waiver is required. Follow the links to learn more about the benefits of membership and to join BASK.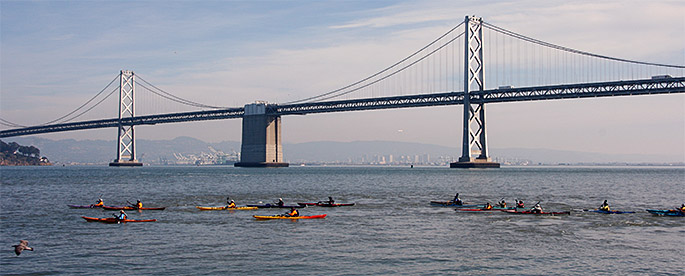 We invite you to attend one of our monthly meetings, currently online due to the pandemic! They are free and open to the public. The format of each meeting may vary a bit month to month, but they tend to include members sharing stories, featured speakers, club news, and information about upcoming events. It's a great way to meet club members and learn about paddling opportunities. For more information see the Events page!
Would you like to speak at a BASK meeting or have an idea for a speaker? Contact the Speaker Seeker. Interested in what type of speakers we've had in the past? See the list of previous general meeting topics.
General meeting will be at 7 pm, online.
ZOOM INFORMATION will be posted on the BASK Calendar on the morning of 10/27.

Keynote speaker will be Cole Wilde speaking about his experiences paddling in Patagonia.
Join us as Cole Wilde tells the story of how three generations of paddlers embarked on a self-supported expedition down an a severely endangered river running through the steppes of Patagonia in their TRAK kayaks; The journey took over 330 miles from the Andes mountains of Argentina to the Atlantic ocean and they discovered just how much was at stake of being lost on the Rio Santa Cruz river.
Cole Wilde is an experienced paddler from Vancouver Island, Canada. He has worked professionally as a sea kayak guide and Paddle Canada instructor both in Canada as well as in the Chilean and Argentinian Patagonia. Cole is also a coach & trip leader at TRAK kayaks.




Photo by Ken Storm





Other Topics for the Meeting:

Steve Goldfinger on Willamette River Trip
Nathan Moody and Krista Fechner on Falling Back/Falling Forward in the San Juan Islands
Tom Colton on VTS
Mary Ann Furda--Muscle of the month
Welcome New Members
Trip Reports



How to Attend:
**** ZOOM INFO WILL BE POSTED on the BASK calendar****
Zoom info will NOT be on Buzz.
Zoom info will NOT be on the BASK website except in the calendar.
If you are not a BASK member yet, contact jonathan@moosepix.com for information on how to attend.
Please do not share Zoom information on social media.
You must confirm that you have access to the BASK calendar prior to the meeting. Please do not wait until the last minute to do this. We may not have the resources to assist you at the last minute.

Please make your Zoom "Display Name" your real name, as it is listed in the BASK directory. Here is information on how to do that:
https://support.zoom.us/hc/en-us/articles/201363203-Customizing-your-profile
If your Zoom display name is, "I am a ZoomBoomber" and we can not easily verify that you are a legitimate BASK member, we may kick you out of the meeting.