Bay Area Sea Kayakers (BASK) is a group of several hundred sea kayakers who live throughout the San Francisco Bay Area. Our interests include flat-water paddling, kayak-surfing, expeditions, and playing amongst the rocks, in conditions that range from mild to wild. Our club exists to bring paddlers together for companionship, safety, exploration, learning, and great food and drink! We welcome as members all individuals interested in kayaking. We're committed to building a diverse and inclusive paddling club and to sharing our enthusiasm, skills, and knowledge to increase equity and access to our sport.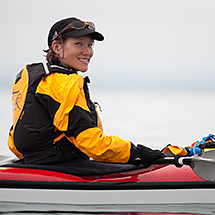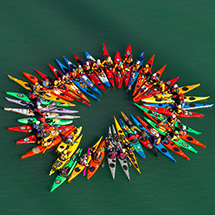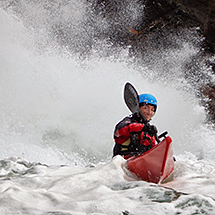 BASK trips range from local to international, and are all member-initiated with shared responsibilities for safety. BASK does not supply boats or equipment, although some members are willing to share their equipment. You have to be a member or a guest of a member to participate in on-the-water BASK events and a signed activity waiver is required. Follow the links to learn more about the benefits of membership and to join BASK.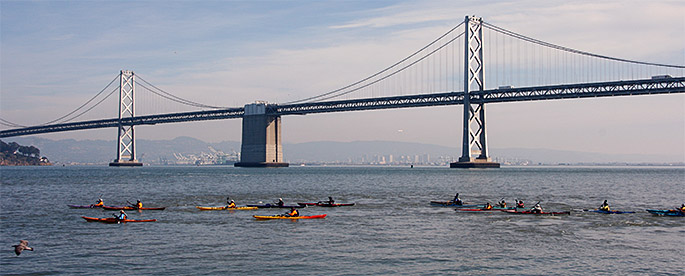 We invite you to attend one of our monthly meetings, currently online due to the pandemic! They are free and open to the public. The format of each meeting may vary a bit month to month, but they tend to include members sharing stories, featured speakers, club news, and information about upcoming events. It's a great way to meet club members and learn about paddling opportunities. For more information see the Events page!
Would you like to speak at a BASK meeting or have an idea for a speaker? Contact the Speaker Seeker. Interested in what type of speakers we've had in the past? See the list of previous general meeting topics.
BASK Health Guidelines
For the safety of participants at all BASK paddles and other in-person activities, please stay home and join us another time if:
You're experiencing symptoms of any communicable respiratory illness
You're testing positive for COVID-19, even if you're feeling well
In the past week, you've been exposed to someone with COVID-19 via shared air
If you develop COVID-19 symptoms or test positive for COVID-19 within a week of attending an in-person BASK activity, please let the event initiator know. This will allow the initiator to inform other participants, who can then choose to self-test or take other precautions such as obtaining pharmaceutical COVID-19 treatments if they develop symptoms.
BASK General Meeting at Oakland Middle Harbor Shoreline Park, Sunday June 11, 11 am - 4 pm

Join us for a fun outdoor potluck, meet the latest Skills Clinic class of 2023, and meet fellow BASKers at the next general meeting on Sunday, June 11 at Oakland Middle Harbor Shoreline Park. The gear swap begins at 10 am and the general meeting at 11 am. We have pavilions B and C reserved for the BASK meeting, the gear swap, and a special birthday recognition for Penny Wells, a co-founder of BASK (who will turn 80 in June!).

There is no featured speaker for this meeting, just a chance for BASKers to visit and catch up. Mary Ann Furda has agreed to lead us in a Muscle of the Month exercise in the fresh outdoors.

As for kayaking, a paddle to the meeting, starting at 8:30 from Tidewater Boating Center, has been initiated; see the Currents post here. But beware, the meeting start time coincides with low tide and the beach can get very muddy, so exercise caution if planning on paddling to or from the meeting. Also, a New Member Paddle is planned nearby after the meeting.

If you've been curious about Greenland or Aleut style paddles versus Euro paddles, this is the time to visit! Members will bring some of their own Greenland/Aleut paddles, and Kathy Bunton of Delta Kayaks will bring a few representative paddles as well.

Please sign up if you will attend, to help us plan. We'll also need some volunteers to help with setup and cleanup, so please don't be shy. Sign-up for helpers is here. (There are two tabs on the Google sheet).