Below is a summary of some of Northern California's most popular kayak surfing breaks.
Warning: Note that during certain adverse conditions, any of these spots can be dangerous, even deadly. Please practice good common sense. Always wear full immersion gear and a good helmet. Take a buddy with you if at all possible.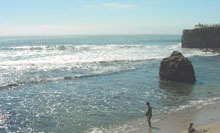 Bolinas—Probably the most popular spot for beginners and intermediates. Typically there are a variety of good take-off places, though the most consistent seems to be just NW of the channel. This spot works best with a south or westerly swell. Duxbury reef largely screens out steep northern swells. (Though this can be good if the swell is really huge.) Warning: During an ebb tide, the lagoon can create a very strong current out to sea. If you are in a closed deck boat and lack a reliable roll you should avoid this area. At low tide, the waves can get dumpy and drop you into very shallow water. An inadvertent cartwheel could result in serious head or neck injury.
Ocean Beach—It's junky most of the time, good some of the time, and occasionally world class. Warning: Beginners should not attempt this beach at all, and intermediates and experts should use caution. The waves are typically the biggest of any beach break along the central coast. There are lots of nasty rips, and at the north end of the beach, the currents can take you right onto Seal Rocks. A good first place to try is across from the Beach Chalet at the northwest corner of Golden Gate Park.
Pacifica (Linda Mar)—Another popular spot. Appropriate for beginner through high intermediate level paddlers. Often junky, often crowded, but more sheltered than Ocean Beach. Best during a medium to high rising tide. The waves tend to be bigger to the north but better shaped at the south end. Warning: After a big rain, the water can be quite polluted.
Half Moon Bay to Santa Cruz—This 50-mile stretch of coastline features a number of good breaks, foremost of which are Davenport Landing, Scotts Creek, and Wadell Creek. Warning: All of these spots can be hairy and are generally inappropriate for beginners. Stay away from the sharky waters of Point Año Nuevo, especially the Año Nuevo State Reserve.
Santa Cruz—This is the jewel of Northern California Surfing. The waves are generally big, well shaped, and sheltered from northerly winds. The problem is that everyone knows about it, and during busy periods the top breaks (Steamers Lane and Pleasure Point) are all but off-limits to kayakers due to the extremely high concentration of territorial board surfers. The most popular kayak spot is known as Privates. As you head west along the bluffs from Capitola there is a series of breaks, culminating in Pleasure Point (Soquel Point). On a good day there will be literally hundreds of board surfers along this stretch, with the concentrations increasing as you near the point. Privates is so named because the easiest access is through a locked gate supposedly accessible only to members of a neighborhood association. You can hang out by that gate and try to follow somebody in and down the stairs to the beach, or you can put in a couple hundred yards to the west at the stairs just past 41st Avenue. The break is fantastic during the right conditions, but don't be surprised if you encounter hostility on a particularly nice, crowded day.
Monterey State Beach, Monterey—This is a great location, where you can select the size of surf you want, and where you are unlikely to encounter territorial board surfers. Starting at Monterey Bay Kayaks near the wharf, follow the shoreline eastward and curve northeastward toward Seaside and Sand City until you find the size surf you want. Due to shielding by the Monterey Peninsula, surf is negligible near the wharf and gets progressively larger as you go along the shore. The number of board surfers is small, and they are friendly if you show good surf etiquette. There tends to be a good "soup zone" of frothy white stuff between the break and shore, where you can hang out and get used to the feel of on-rushing water. Then, go out to the break and practice. A good access point is from Casa Verde Way, a mile east of the wharf from Del Monte Avenue.