Annual membership in BASK is $30 per person, $45 per family, or $20 for students, seniors, and out-of-state members. Join BASK today!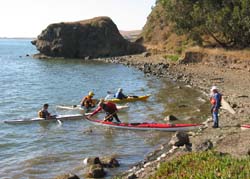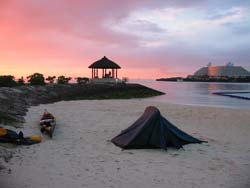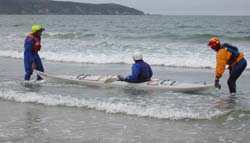 Benefits of membership in BASK include:
Participation in trips, workshops, and clinics for all skill levels. Trips lead us all over the Bay area, and an important goal of BASK is to offer opportunities for members to improve their sea kayaking skills. BASK does not supply boats or equipment, although some members may be willing to share equipment. Workshops initiated by members have included: open water rescues, tides and currents, kayak sailing, the surf zone, rock gardening, kayak repair, expedition planning, and instructor training. Our most ambitious program is the BASK Skills Clinic, an annual five-week "Kayak Boot Camp" with an intensive mix of classroom and on-water instruction sessions and a weekend kayak camping trip. We run this clinic for BASK members who have been paddling for a while with the club, but feel that they would like a more formal presentation and refinement of their skills. All of the Clinic volunteers are members, most are Skills Clinic graduates, and some work as instructors for local companies. The emphasis of the Clinic is on presenting and developing skills that will help participants feel confident to enthusiastically participate in club events and contribute to the continued growth of the club by actively supporting BASK as better kayakers, trip initiators, Clinic volunteers, and officers.
Access to the club's forum (Currents) for discussion of all kayaking matters. Learn about last-minute paddles, read trip reports from recent BASK paddles (with photos on Currents), and learn how to sign up for club trips to Mendocino, Monterey, and beyond. Wondering about the best boat for touring or what kind of marine radio to get? Post to Currents and you'll get lots of info. Keep up with local environmental news, whale sightings in the Bay, new launch locations, and much more.
Subscription to BASK Monthly Events and Announcements, our email newsletter that lists upcoming paddles and other club events.
Access to the members-only section of the BASK website, with quick links to the events calendar, online member directory, and important club news. In this section, you'll find information about BASK's yearly parties, camping trips, clinics, and other events.
Access to our extensive library of kayak-related literature, videos, and DVDs.
BASK members have also organized expeditions to Alaska, Baja, British Columbia, Chile, Fiji, Hawaii, New Zealand, Tahiti and more. Although most trips are initiated by one or more persons, all trips are cooperative efforts with responsibilities shared by all participants.

A BASK bumper sticker and an ID info sticker for your kayak.
Support of other groups and non-profits that care about and protect our paddling environment.