Hello all BASKers:
General meeting will be at 7:00PM on Wednesday, August 25.
The meeting will be online.
HOW TO ATTEND:
**** ZOOM INFO WILL BE POSTED on the BASK calendar****
Zoom info will NOT be on BUZZ
Zoom info will NOT be on the BASK website except in the calendar
Please do not share Zoom information on social media.
You must confirm that you have access to the BASK calendar prior to the meeting. Please do not wait until the last minute to do this. We may not have the resources to assist you at the last minute.

Please make your Zoom "Display Name" your real name, as it is listed in the BASK directory. Here is information on how to do that:
https://support.zoom.us/hc/en-us/articles/201363203-Customizing-your-profile
If your Zoom display name is, "I am a ZoomBoomber" and we can not easily verify that you are a legitimate BASK member, we may kick you out of the meeting.
FEATURED PRESENTATION
Keith Miller will speak on the state of the industry and all things kayaking.
Keith is a both a founding member of BASK and California Canoe & Kayak, one of the top Specialty Paddlesports companies in the country. CCK was founded in Marin in 1972 by paddlers and has remained a paddler owned and operated company since inception. They have been the leader in the development of instruction and access to paddlesports since the beginning. Keith started his business in his garage. He turned his love of water sports into a sometimes challenging but successful business and has watched as paddlesports have grown from a small community of paddlers to a world wide sport available to most everyone.
You can learn more about CCK here:
https://www.calkayak.com/service/about/
OTHER ITEMS ON THE AGENDA
Welcome new members
Upcoming paddles and events
Skills Clinic 2021 update
August McNear's Beach Party Report
Mendo Navigation puzzle and breakout rooms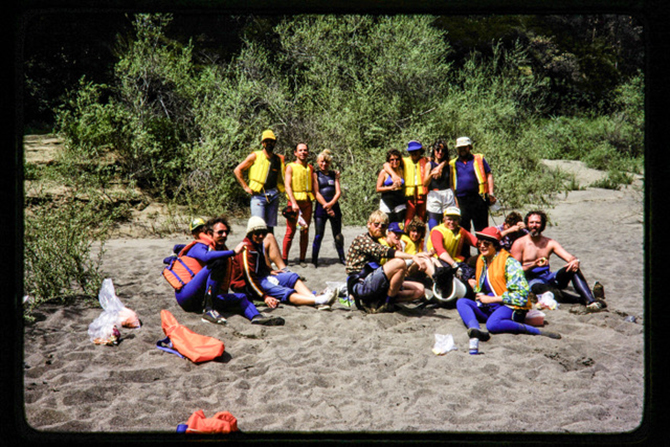 Keith (blond, center) on the river in the early 80s