Date: Sunday, May 15, 2022, 8:50 AM - 11:10 AM
About: All members and guests are welcome to attend this first in-person meeting in over 2 years. Keep up on BASK plans and activities. Learn the history of one of our favorite kayaking spots. Enjoy brunch and the option of launching your kayak afterward for a shoreline cleanup. Part of the meeting will be held in the well-ventilated museum, where masks will be required.
Location: The village waterfront at China Camp State Park. Limited parking, with satellite lot and shuttle for overflow. Carpools are encouraged.
Sign up: For food planning and parking, please sign up.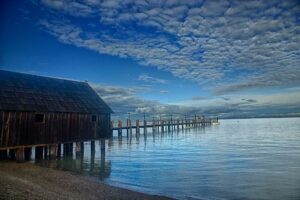 Agenda Highlights
Welcome to China Camp by Martin Lowenstein, Executive Director of Friends of China Camp
Featured Presentation: Historic look at the China Camp Village. John Muir, FOCC Director, will tell us about the Chinese fishing village and the traditional fishing vessels Grace Quan and Franca that he built at China Camp in recent years. John is the Curator of Small Craft at the San Francisco Maritime National Historical Park, where he researches, designs, builds, and sails replicas of extinct historic Bay Area watercraft.
Break for catered brunch. $10 donation requested
Welcome New Members
Upcoming Paddles and Events
New Initiative: A chart on every deck
Gearhead with Nathan Moody
Planning meeting highlights
Optional: Stay on or come for shoreline cleanup by kayak at noon, additional paddling after
Questions: Tom Colton, tcolton@berkeley.edu