Time: 7 pm (Virtual)

About: All members are welcome to attend the virtual General Meeting, hosted on Zoom. Keep up on BASK plans and activities. Listen to notable speakers. Join in on fun and educational kayaking-related activities.
Location: Zoom Meeting (invitation will be posted on the BASK calendar). Note: The speaker portion of this meeting will be recorded.
Agenda Highlights:
Upcoming paddles and events
Welcome new members
Best dry bags, from Doerte Mann's workshop
History alive at Fort Ross Weekend
Planning meeting highlights
Skills Clinic Round 1: Volunteers Weekend Adventure
"A chart on every deck" is here!
Gearhead with Nathan Moody
Muscle of the month with Mary Ann Furda
Featured Presentation: How to Step Up Your Paddling Game: Value of Deliberate Practice & Cross-Discipline Paddling.
Join instructors and athletes Ge Wu and Mary Ann King as they share more about their paddling history. They'll also share their experience and tips for how to enhance your sea kayaking with better/more deliberate practice and cross-discipline training. Both Ge and Mary Ann have competed at the highest levels of water polo among pushing boundaries in other disciplines and are excited to share their best takeaways so you can better reach your own paddling goals big and small.
Questions: Tom Colton, BASK President, tcolton@berkeley.edu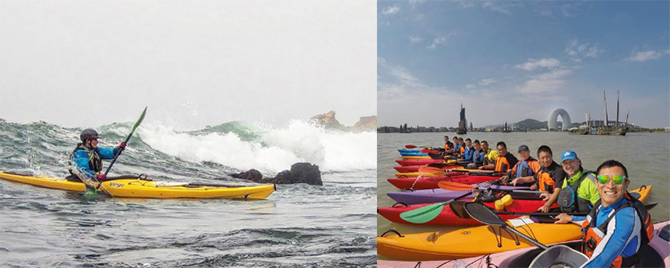 Left: Three-time US kayak polo national champion and ACA L3 Coastal Kayaking Instructor Mary Ann King.
Right: ACA Coastal Kayaking IT and Paddlesports Coach at Zhejiang University, Hangzhou, China, Ge Wu.
How to Attend:
**** ZOOM INFO WILL BE POSTED on the BASK calendar****
Zoom info will NOT be on Buzz.
Zoom info will NOT be on the BASK website except in the calendar.
Please do not share Zoom information on social media.
You must confirm that you have access to the BASK calendar prior to the meeting. Please do not wait until the last minute to do this. We may not have the resources to assist you at the last minute.
Please make your Zoom "Display Name" your real name, as it is listed in the BASK directory. Here is information on how to do that:
https://support.zoom.us/hc/en-us/articles/201363203-Customizing-your-profile
If your Zoom display name is, "I am a ZoomBoomber" and we can not easily verify that you are a legitimate BASK member, we may kick you out of the meeting.