Time: 7 pm (Virtual)
About: All members are welcome to attend the virtual General Meeting, hosted on Zoom. Keep up on BASK plans and activities. Listen to notable speakers. Join in on fun and educational kayaking-related activities.
Location: Zoom Meeting (invitation will be posted on the BASK calendar). Note: The speaker portion of this meeting will be recorded.
Agenda Highlights:
Featured Presentation: "An Evening Discussion with Maligiaq Padilla"
Muscle of the Month with Mary Ann Furda
Upcoming Paddles and Events
Welcome New Members
Planning Meeting Highlights
Launch of BASK's New Forum called Currents
Gearhead with Nathan Moody
Got ideas for meetings or locations? Contact Tom Colton, BASK President, tcolton@berkeley.edu
Presentation Description: Despite his young age, Maligiaq Padilla is a legend in sea kayaking. Born to an American father and a Greenland Inuit mother, Juliane Padilla (née Johnsen), he was raised from age four in Sisimiut, Greenland. Padilla's grandfather, Peter Johnsen, a skilled kayaker in his own right, taught Padilla how to kayak, how to build the boats, and how to hunt using a harpoon and rifle. Included in his training were open-ocean skills and traditional kayak-building skills.
Kayaks built by Padilla are housed at the Greenland Sisimiut Museum, the Inuit Gallery of Vancouver, the Smithsonian Museum in Washington D.C., and the Kativik Cultural Center in Nome. In 2010 Padilla moved to Alaska, where he is working to revive traditional kayaking culture. He and his wife, Elizabeth Saagulik Hensley, an Iñupiaq attorney, have two children. Padilla is the only person in history to win four Greenland National Kayaking Championships, winning his first title at 16.
Maligiaq's presentation will begin the meeting, as his current time zone is five hours ahead of ours.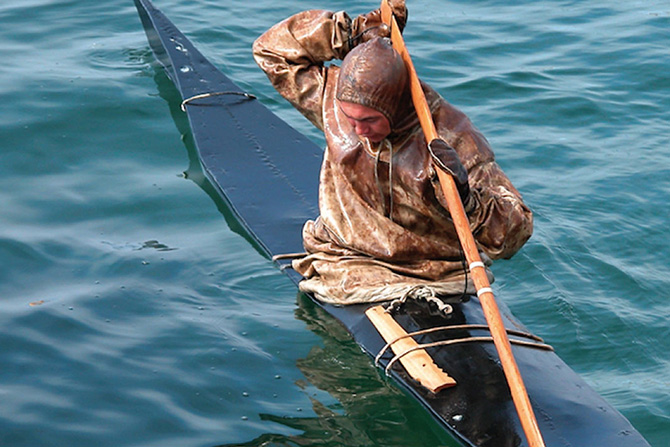 How to Attend:
**** ZOOM INFO WILL BE POSTED on the BASK calendar****
Zoom info will NOT be on Buzz.
Zoom info will NOT be on the BASK website except in the calendar.
Please do not share Zoom information on social media.
You must confirm that you have access to the BASK calendar prior to the meeting. Please do not wait until the last minute to do this. We may not have the resources to assist you at the last minute.
Please make your Zoom "Display Name" your real name, as it is listed in the BASK directory. Here is information on how to do that:
https://support.zoom.us/hc/en-us/articles/201363203-Customizing-your-profile
If your Zoom display name is, "I am a ZoomBoomber" and we can not easily verify that you are a legitimate BASK member, we may kick you out of the meeting.