Note the time change for this meeting only!
Time: 6 pm (Virtual)
Because our speaker will be presenting from the east coast, his presentation will start the meeting at 6 pm PDT/9 pm EDT.
About: All members and prospective members are welcome to attend the virtual General Meeting, hosted on Zoom. Keep up on BASK plans and activities. Listen to notable speakers. Join in on fun and educational kayaking-related activities.
Location: Zoom Meeting (invitation will be posted on the BASK calendar that day). Note: The entire meeting will be recorded.
Agenda Highlights:
Featured Presentation by Joe Berkovitz: "Floating Trails Paddle Planning Tool"
Welcome New Members
Upcoming Events
BASK Skills Clinic 2023
Muscle of the Month with Mary Ann Furda
Featured Presentation: BASK member Joe Berkovitz will talk about his new paddle planning tool called "Floating Trails," designed to be used across the U.S. The tool offers nationwide coverage of NOAA marine charts, and route drawing with automatic distance and bearing labels. Any generated maps with routes and tide overlays can be printed up to 11x17", or shared with other paddlers via a link. This customization is much more powerful than what is available from NOAA's Custom Charts website. Joe will review this great new tool, provide some examples, and address any questions.
Joe Berkovitz is a paddler, software developer, and sculptor who lives in Marblehead, Massachusetts. He has been kayaking for some decades now, and has been lucky enough to paddle lots of wonderful places from the Maine coast to Iceland, Arctic Canada and (of course) the Bay Area. A first-class navigator, Joe built this program to simplify preparing charts for kayakers across the continent.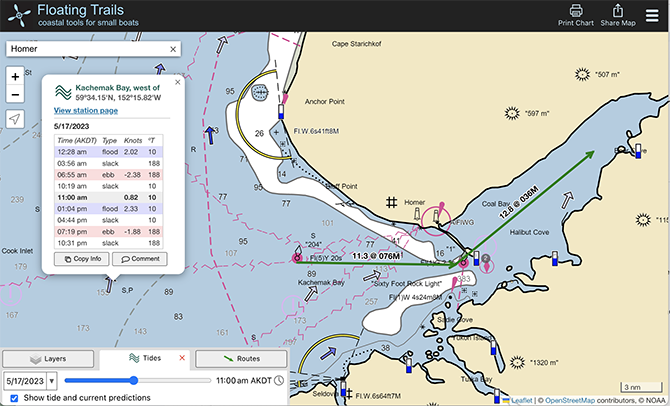 How to Attend:
**** ZOOM INFO WILL BE POSTED on the BASK calendar****
Zoom info will NOT be on Buzz.
Zoom info will NOT be on the BASK website except in the calendar.
Please do not share Zoom information on social media.
You must confirm that you have access to the BASK calendar prior to the meeting. Please do not wait until the last minute to do this. We may not have the resources to assist you at the last minute.
Please make your Zoom "Display Name" your real name, as it is listed in the BASK directory. Here is information on how to do that:
https://support.zoom.us/hc/en-us/articles/201363203-Customizing-your-profile
If your Zoom display name is, "I am a ZoomBoomber" and we can not easily verify that you are a legitimate BASK member, we may kick you out of the meeting.
Got ideas for meetings or locations? Contact Cris Lewis, BASK President, lewis.cristina@gmail.com