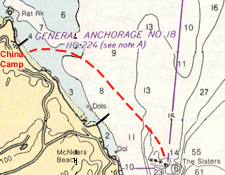 Summary: About three miles round trip. This part of San Pablo Bay is sometimes protected from the wind, and the gravel beach at China Camp makes a good launch site. At low tide beware, there is mud: oozing black sticky mud that'll suck the booties right off your feet. If you want to begin collecting islands, head on up to Rat Rock about 0.75 mile north of China Camp.
Special Cautions: Stay away from the fishing lines at the end of the pier at McNears beach. Watch out for sail and motor boats. At maximum ebb and flood, the channel between The Sister Islands can produce some interesting eddies. And unless you enjoy dust and noise, stay away from the quarry and the barges being loaded at the quayside due west of The Sisters at Point San Pedro.
Directions to launch site: From Highway 101 it's about five miles to China Camp. Take the main San Rafael exit, head east past Whole Foods and Trader Joe's (both excellent sources for provisions for the trip), past the marinas and the quarry and McNears Beach County Park, into the China Camp State Park and finally turn right into the China Camp parking lot ($5). There are clean bathrooms at the beach. Afterwards, retire to one of the many eateries in downtown San Rafael or Marin Brewing Company (Larkspur Landing) to discuss your adventure and plan the next trip.
---
Back to Paddles around the Bay - Back to Miscellaneous Articles