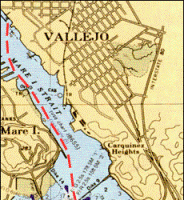 Summary: Aah, Vallejo: gateway to the Wine Country! And what better place to begin a nice relaxing paddle to Benicia, about 7.25 miles away. Along the way you'll pass an osprey nest perched atop a tower towards the southern end of Mare Island, and you'll see the 1958 cantilever bridge and the 2003 suspension bridge over the Carquinez Strait. East of Crockett you can pause at a small fishing pier and after crossing the railroad tracks, have lunch at a small riverside park. Or you can keep going until you reach Port Costa, where you can wet your whistle at the famous Warehouse Bar where you'll be faced with a bewildering choice of 500+ beers. Be sure to bring money with you.

Special Cautions: Mare Island Strait is jet-ski country! When crossing to the west side of Mare Island Strait and again when you pass through the twin breakwaters into the Carquinez Strait, watch out for the very fast twin-hulled ferries that go from Vallejo to San Francisco. Stay together in a group when crossing the Carquinez Strait since this is a major shipping route between cities in the Delta and San Francisco Bay. Just in case you're thinking of doing this paddle in the reverse direction, on a big ebb with high summer winds, conditions under the Carquinez Bridge can get pretty hairy, just like at the Golden Gate. Ideally you would plan your trip to take advantage of the end of the ebb to take you down to southern end of Mare Island and then ride the beginning of the flood up to Benicia.
Directions to launch site: From Interstate 80, take 780 west into Vallejo and follow the signs to Curtolla Parkway and the Ferry. Proceed straight at every intersection until you cross Solano St; a 100 yards further on the left is the entrance to Brinkman's Marina (where there are bathrooms). After you drop your boats and gear near the boat launching ramp, you'll need to get as many vehicles as possible to the take-out which is at the bottom of 1st Street in Benicia. Go back the way you came: take Curtolla Parkway to 780, cross under the 80 and follow 780 to Benicia. Exit on Military West and continue straight until you reach 1st Street then turn right. Drive down through the historic center of Benicia until you get to the parking lot right on the water. Then you all pile into the largest vehicle and head back to the boats.
---
Back to Paddles around the Bay - Back to Miscellaneous Articles