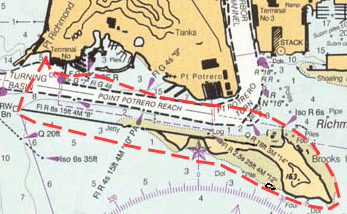 Summary: If you decide to circumnavigate Brooks Island, this can be a somewhat challenging 5.5-mile round trip. Brooks Island is a reserve for nesting terns, herons and egrets and it is closed to all boaters for landing. At the western end of the southern edge of Brooks Island is a smallish white-topped island called (of course) Bird Island, the inside of which provides the only shelter along this exposed south-facing leg.
Special Cautions: Paddling along the south side of Brooks Island and its breakwater can present a challenge. If the wind is from the southwest, there is a long enough "fetch" for the waves to build up to 2-3 feet. Paddling parallel to waves of this size requires good bracing skills. From the put-in, paddle straight out to the breakwater and check out conditions. If you feel uncertain, paddle in the lee of the breakwater instead. When paddling next to the solid concrete piers along the north side of the shipping channel you may discover clapotis (not a nasty skin complaint, but a sea condition caused by reflecting waves bouncing off a solid wall, causing some waves to cancel out each other, while others will add together to produce dancing vertical water; be ready to brace!)
Watch out for ship traffic! When crossing the shipping channel, try to cross at right angles to minimize your exposure. There are lots of power and sailboats as well as large ships and barges that move down Point Potrero Reach inside the breakwater. Large vessels always seem to move quicker than you think: give them plenty of room all around. Don't assume they can see you: even if they could, they have very little room to maneuver in this confined space.
Directions to launch site: From Highway 580 take the Garrard Blvd. exit about a mile east of the Richmond/San Rafael bridge toll plaza. Head south on Garrard into Point Richmond, past "The Plunge" (swimming pool and scene of roll practice on Thursday evenings), and through the tunnel. South of the tunnel, Garrard becomes Dornan Drive and you'll pass the model railroad building on the left and the Miller/Knox Regional Shoreline Park of the East Bay Regional Park District on your right, until just after Brickyard Cove on your left, you turn right into the Ferry Point parking lot. There are bathrooms. Afterwards, the town of Point Richmond has a choice of places to drink and dine.
---
Back to Paddles around the Bay - Back to Miscellaneous Articles