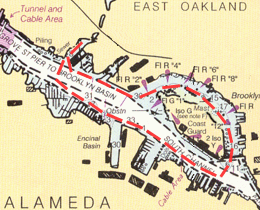 Summary: This is paddling in the urban/industrial environment. Interstate 880 and the railroad run parallel with the channel that separates Oakland from Alameda and it gets quite noisy, especially when you paddle north (clockwise) around Government Island (also known as Coast Guard Island, because they have a large facility there). On the south side of the island you will usually find several USCG 378-foot High Endurance Cutters. After crossing under the road bridge at the east end of the island, and if conditions permit, you can choose to cross over to the other side of the main channel and paddle past a city block of shipping containers, and the remains of ship building and launching facilities. It's about 3.25 miles round trip. More if you paddle west to Jack London Square and show off for the tourists. This stretch of water is where California Canoe and Kayak teach their kayaking classes. That said, on a nice summer weekend, with sail boats and power boats heading in and out, it can be a very busy place indeed. At such times it's better to stay out of the center of the channel and only cross it at right angles if you've got plenty of time.
Special Cautions: Crazies in their power boats. Weekend sailors involuntarily jibing. Wakes, coming from all directions, combining and refracting. Excellent bracing practice!
Directions to launch site: The boat launch at Estuary Park is about 0.5 miles east of Jack London Square in Oakland. Take Oak Street south from the west side of Lake Merrit and follow it around as it bends left after crossing the railroad tracks. Estuary Park will be on your right.
---
Back to Paddles around the Bay - Back to Miscellaneous Articles