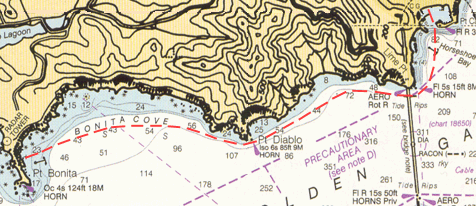 Summary: This is one of the best paddles in the bay: the thrill of paddling out under the Golden Gate Bridge for the first time cannot be overstated. It's about seven miles roundtrip depending how much you hug the coastline.
Note: The tempting-looking beach just inside Point Bonita, near the ruins of a lifeboat launch ramp, is off-limits because it is a seal haul-out. For a lunch spot, try one of the sandy beaches closer to the middle of Bonita Cove instead, or if the conditions and your skills permit, go around Point Bonita and make a surf landing at the (sometimes) protected end of Rodeo Beach.
Special Cautions: This can be a challenging paddle: make sure your skills are up to the task. If you are not sure, get advice from other BASK members. The weather will play a major role: ocean swells from the southwest and 25-knot winds can produce 10-foot standing waves under the bridge on a strong ebb tide. Even after you pass under the Gate, the westerly wind can hamper progress especially around Point Diablo. If you stay in the shelter of the land, the eddy (counter) current will also slow you down. Be prepared for strong currents and eddies at Lime Point right at the base of the north bridge tower. Be ready to brace and paddle hard. Plan this trip around the tides: best to go out on a low ebb, back on the flood. Check long-range weather forecasts and swell data from offshore bouys, etc. Be prepared to cancel the trip if conditions are unfavorable.
Directions to launch site: Horseshoe Cove (also known as Horseshoe Bay) is situated in East Fort Baker just north of the Marin tower of the Golden Gate Bridge. From Highway 101 take the Sausalito exit immediately north of the bridge then follow the signs to Fort Baker. Take a right just before the tunnel to Rodeo Beach and Fort Cronkite, and follow the road down towards the Coast Guard Station. Turn left and go through the Discovery Museum parking lot until you get to the yacht club. After your paddle, you can visit the yacht club bar which is open to the public, and offers a splendid view.
---
Back to Paddles around the Bay - Back to Miscellaneous Articles